Paul E. Knupke, Jr.  Memorial Fund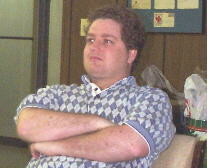 Paul Knupke, Jr.-N4PK was an inspiration to many in the West Central Florida Amateur Radio community. At the time of his passing on September 24, 2002 at age 31, Paul was one of the area's most active Hams, serving as an Assistant Section Manager with the ARRL West Central Florida Section, Webmaster for the Section, the West Central Florida SKYWARN Group, the Clearwater Amateur Radio Society, where he was also a Past President, Chairman of the TampaBay Hamfest Committee and as a Founder, member of the Board of Directors and webmaster for this organization.
We honor Paul's energy, leadership, zeal for life and desire to introduce the challenge and excitement of Amateur Radio to the next generation with this scholarship program. The WCFG, Inc Board of Directors will award one or more scholarships annually in Paul's memory to West Central Florida youth to help them achieve their quest for excellence through higher education.
Contributions to the Paul Knupke, Jr. Memorial Fund may be sent to:
Paul Knupke, Jr. Memorial Fund
The West Central Florida Group, Inc.
11931 92nd Way North
Largo, FL 33773-4321
OUR CORPORATION ID NUMBER IS 65-1061382. OUR CHARITABLE REGISTRATION NUMBER IS CH 16854.
A COPY OF THE OFFICIAL REGISTRATION AND FINANCIAL INFORMATION MAY BE OBTAINED FROM THE DIVISION OF CONSUMER SERVICES BY CALLING TOLL-FREE 800-435-7352 WITHIN THE STATE OF FLORIDA. REGISTRATION DOES NOT IMPLY ENDORSEMENT, APPROVAL OR RECOMMENDATION BY THE STATE OF FLORIDA.
REGISTRATION INFORMATION CAN BE OBTAINED FROM THE DIVISION OF CONSUMER SERVICES AT www.FloridaConsumerHelp.com