NI4CE Repeater Map & Frequencies
Also known as "Big Stick", NI4CE is West Central Florida's regional VHF/UHF Amateur Radio communications connection.  NI4CE covers all or parts of twelve different counties and provides seamless coverage along the areas I-75 and I-4 corridors.  All sites are linked.  WCFG operates two parallel, repeaters systems – the original analog linked repeater system and the newest NXDN digital linked repeater system.  The analog repeater system locations and coverage map are shown below.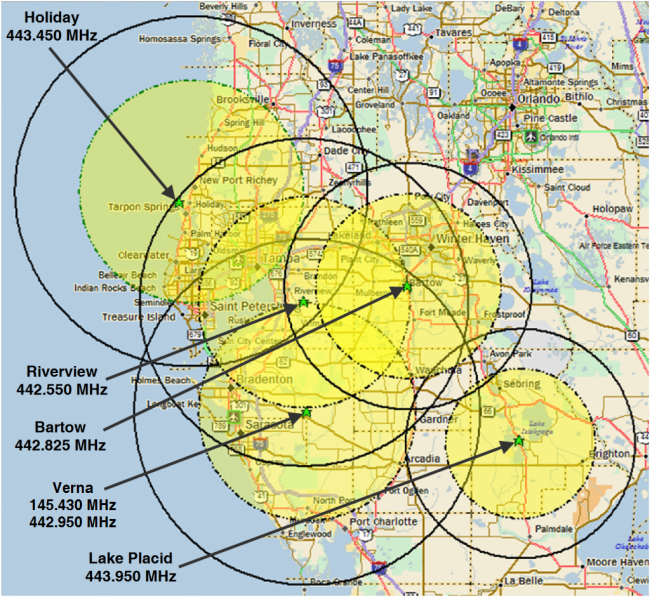 The inner yellow circle is 5-watt handheld HT coverage inside a building. Your results may vary.
The outer circle is 50-watt mobile coverage.
All repeaters require a PL tone of 100hz to access the system. All NXDN repeaters use a RAN code of 1 to access that local system.
Please pause a moment between keying and talking. It takes about 1/2 a second for the system to completely get all the transmitters up and running and for others listening with tone squelch on their radio to decode the tone and open squelch.
Why 70-centimeters in so many locations? Here's an explanation.
---
We also operate several APRS Digipeaters and APRS weather stations in our network!
NI4CE-10 Verna (Manatee County) APRS Weather Station and Digipeater
NI4CE-11 Riverview (Hillsborough County) APRSWeather Station (ground level) 
NI4CE-12 Riverview (Hillsborough Count) APRS Wide Area Digipeater and Weather Station (weather station currently off the air) (805 feet AGL)
NI4CE-13 Oldsmar (NE Pinellas County) APRS Weather Station (weather station currently off the air)
NI4CE-14 Holiday (Pasco County) APRS Weather Station and Digipeater
All digipeaters support the WIDE N-N protocol.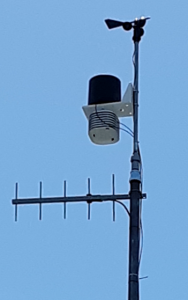 NI4CE-14 APRS Weather Station and Digipeater at Holiday
---
NI4CE is open for use by all licensed Amateur Radio operators. All users of the system are asked to observe Amateur Radio Code and all FCC Part 97 rules. Only voice (phone) transmissions are permitted in English on the system.