NXDN Digital Communications
In addition to our expansive Linked Analog Repeater Network, the West Central Florida Group, Inc. operates NXDN Digital Repeaters on:
444.4250 MHz (+) RAN-1 from our Riverview site in Hillsborough County
444.3125 MHz (+) RAN-1 from our Verna site in Manatee County
444.6625 MHz (+) RAN-1 from our Lakeland site in Polk County
442.1500 MHz (+) RAN-1 from our Seminole site in Pinellas County
442.6500 MHz  (+) RAN-1 from our Holiday site in Pasco County
These repeaters provide continuous local NXDN digital voice and data services to Hams in the TampaBay Metro area. Our NXDN repeaters are also connected to the growing NXDN WorldWide network that includes repeaters in Orlando, Tallahassee, Jacksonville, and Palm Coast, FL.
Operators using Talkgroup 1200 will be able to access all four repeaters simultaneously but limited to Icom repeaters only.  Operators using Talkgroup 65000 will have access to the NXDN-Worldwide Network that currently connects over forty repeaters in North America but is sporadic further up the network.  Operators using a new Talkgroup 9000 reliably joins Icom and Kenwood repeaters together worldwide.  You may need to program Talkgroup 9000 into your radio.
The NI4CE Digital network is compatible with ICOM IDAS™ and Kenwood NEXedge™ portable and mobile radios. These radios operate with one-fourth the bandwidth of a conventional, analog Amateur Radio transceiver but with clarity that analog transceivers cannot match.
We invite you to explore the advantages and benefits of NXDN digital communications. To help you get started, the West Central Florida Group, Inc. has set-up a NI4CE-NXDN-Users group on Google. To join the group, send your email address to info@ni4ce.org. You will find help programming your radio, and understanding the many features of NXDN radios so you can get the most from your NXDN radio.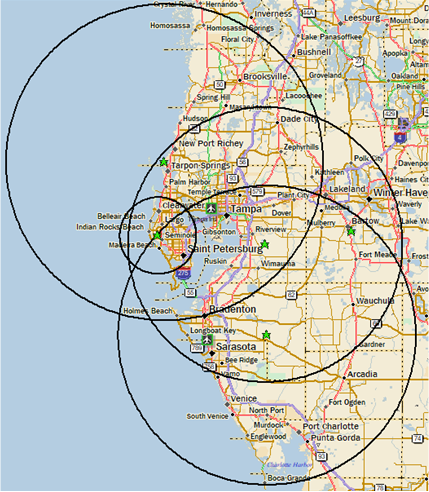 The circles represent 50-watt mobile coverage.  Your results may vary.